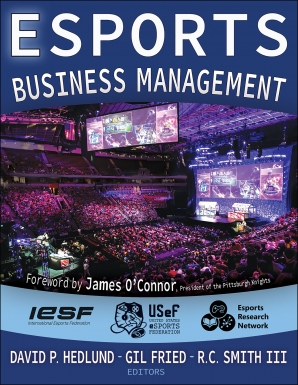 Esports Business Management
272 Pages, 0.00 x 0.00 x 0.00
Paperback
ISBN: 9781718200227
Published: November 2020
£72.00
Buy
eBook
ISBN: 9781492597230
Published: November 2020
£54.00
Buy e-Book
Esports have rapidly expanded from a pastime undertaken by casual players to one of the largest segments of the entertainment industry, in which hundreds of millions of people play and compete daily. Esports Business Management With HKPropel Access is one of the first textbooks to present an all-encompassing look into the world of esports business, will teach both aspiring students and sports professionals about the business of this rapidly expanding industry. Written by esports executives, business experts, and esports educators—and endorsed by the International Esports Federation, Esports Research Network, and the United States Esports Federation—the textbook offers a comprehensive approach to the operational side of esports, supplemented by a striking full-color design and dynamic imagery that will bring concepts to life.

The text begins with a basic overview of the industry, including various levels of esports, culture, and social issues. Next, readers will explore the interests and concerns of various tiers of stakeholders—from title publishers and event organizers to leagues, sponsors, fans, and more—and learn about governance at multiple levels, from the international level to college conferences. A full look at the marketing engine of esports examines sponsorship opportunities, esports events and venues, and communications at all levels, including broadcasting, analytics, and social media. The book addresses managerial and business issues associated with running an esports-related entity, including financial and legal concepts as well as team and player management. The text concludes by examining careers found in the various segments of the industry and looking at the future of esports.

Throughout the text, Zoning sidebars provide real-world spotlights that bring the concepts to life. Student learning will be enhanced by the related online learning aids delivered through HKPropel, with student exercises and case studies that apply content to life, industry profiles, and a list of Internet resources for further learning.

While similarities exist between the sports and esports environments, there are also significant differences in how the esports industry must operate to thrive. Esports Business Management is the foundational text for understanding and working in this exciting, fast-paced industry.

Note: A code for accessing HKPropel is not included with this ebook but may be purchased separately.